1.Authorized Center for International Examinations.
On March 7th, 2016, New Oriental Academy and the UK's largest academic examination board EDEXCEL held an official ceremony confirming that NOA is now a licensed examination center for Edexcel A levels/IAL and GCSE/IGCSE courses.
Since May 2016, students have been able to select NOA as their examination center for these exams which are necessary for applications to secondary schools or colleges and universities in Commonwealth and European countries and the United States.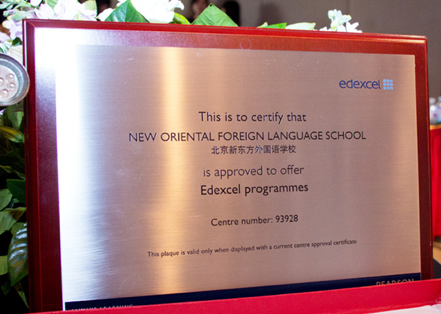 2. "Most Influential International School" - Jinghua Education Festival 2015
In 2015, at the Jinghua Education Festival, New Oriental Academy won the "Most Influential International School "award.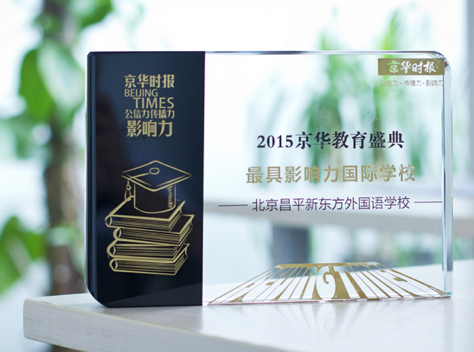 3. "Best International School" – British Education Industry Annual Conference 2014
In December 2014, NOA won the "Best International School" award at the British Education Industry's Annual Conference.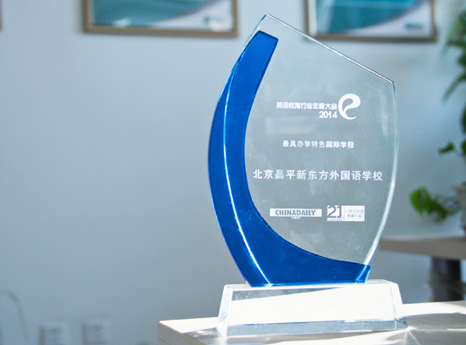 4. "Strongest International School Brand"- China Education Festival 2014
November 27, 2014, NOA was awarded the Seventh Sino China Education Festival's award for "Strongest International School Brand of The Year".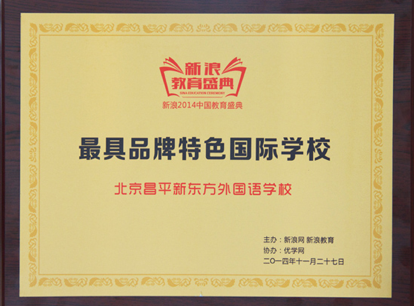 5. Changping District: "5A Level Social Organization"
In November 2013 NOA passed the Beijing Changping District Civil Affairs Bureau's Evaluation and Acceptance Inspection. The group reported that the school's teaching facilities are first-class, and that the overall management team and its operations are extremely efficient. The school was awarded the status of Changping District "5A-Level Social Organization" by the Changping District Social Organization Evaluation Committee.
In line with the Ministry of Civil Affairs' guidance on promoting the assessment of CSOs and the measures for the Management of social organization assessment, the Changping District Civil Affairs Bureau commissioned the professional assessment of 53 eligible social organizations. The results identified 8 social organizations of 5A level, 19 social organizations of 4A level, and 26 social organizations of 3A level.
The award of the 5A-level social organization classification signifies that the school has clear objectives and processes for self-management, a professional service capability and the status and credibility expected of Beijing social organizations for the future.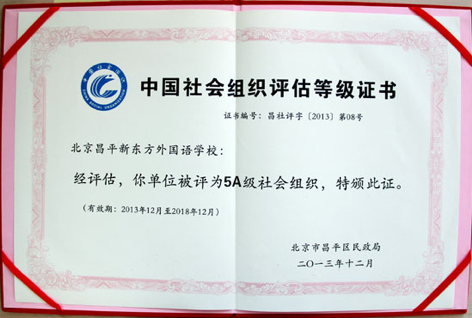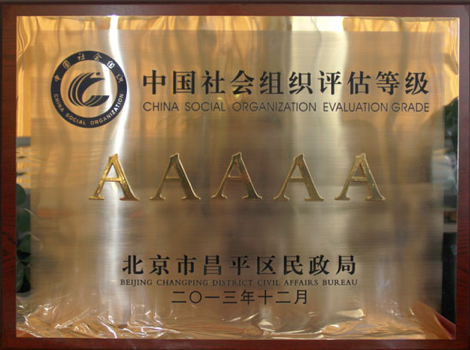 6. "Highest Achieving International High School": NetEase Awards 2013
On the afternoon of November 27th, 2013, the presentation ceremony for the first NetEase International High School Awards was hosted in Beijing by NetEase Education Channel. It was attended by educational experts, scholars and educational business representatives. New Oriental Academy was awarded "Best International High School".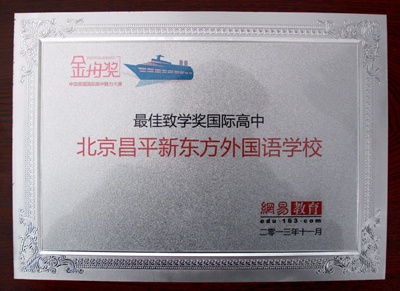 7. American University Council authorized AP School
In view of the excellent results achieved by our students in the AP 2012 and 2013 examinations and following a full evaluation of our bilingual teaching system, the College Board formally approved New Oriental Academy as an authorized AP School (School code: 694547).
In line with the school's strategic planning, we have been entering students for AP courses since 2011 and have adopted a standardized AP teaching system. Following AP accreditation, we have the additional advantage that our AP courses will be supervised and managed by the American University Council, from the development of the syllabus to the review of teaching content, as well as the implementation of the teaching process.
New Oriental Academy applied to become an American University Council AP School, not only to optimize its international high school curriculum but also to help our students as they apply for undergraduate courses at American colleges and universities.
Background
The Advanced Placement Program is a college-level curriculum with corresponding examinations taken in high school. It is administered by The College Board (US and Canada). Following an AP course in high school and passing AP exams is not only a proof of a student's ability and academic level, but also has the following advantages:
1. AP is helpful when applying to top overseas colleges and universities. Given that American universities have long used AP performance in their college admissions processes, AP test scores are now widely used by universities internationally.
2. AP qualifications can reduce future study requirements. Students who pass their AP examinations may accumulate university credits and exemptions from similar courses, take more advanced courses or even skip grades and graduate early.
3. AP qualifications can reduce the cost of studying abroad. The more AP courses that are taken, the more exemptions can be accumulated and therefore less fees to pay.

8. American Psychology Achievement Awards for Seven NOA Students
In 2013, seven NOA students received the 2013 Psychology Achievement Award from the American Psychology Association (APA) and the Teachers of Psychology in Secondary Schools (TOPSS). The American Psychology Association (APA) is the largest and most important psychological academic organization in the world, and the Teachers of Psychology in Secondary Schools (TOPSS, affiliated with APA) is one of the world's most influential unions of psychology teachers. Each year they jointly assess student activity information submitted by APA teacher members and present awards to students who excel in the study of psychology-related courses. The award is one of the highest honors a student in psychology can receive in the field of psychology, and few high school students in China have received the honor.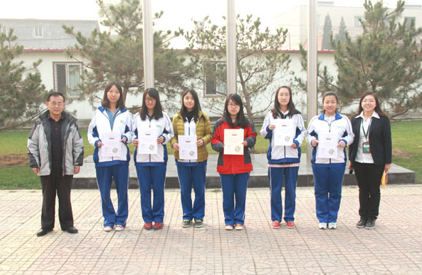 9.First Place in DI (Destination Imagination)
In the 2012 DI National Competition, two teams from New Oriental Academy won awards. One team participated in the Group C Art Competition and the other in the Group D Impromptu Performance Competition. Among them, Group C members Guo Sishi, Liu Fangzhou, Li Ben, Yan Heng, Bai Fengyan, Zhang Hanruo and Wang Xinyi created history by winning the first prize at national level. Group D players Jie Xun, Fang Haoran, Zhao Yige, Jiang Yuanjie, Chen Yuxi, Ren Rongxi, Si Si and Li Yuting won second prize. The students of both teams exhibited great levels of knowledge, creativity and teamwork and brought honor to the school.
New Oriental Academy wins first prize in the DI National Competition
10. "Top 10 International Education Brand 2012 "- Tencent Education Annual Awards
On December 10th, 2012, the 2012 "Resounding China" Tencent Education Annual Awards Ceremony was held in the Shangri-La Hotel. Educators from all over the country gathered to review the 2012 Education industry. Specifically, they paid tribute to exemplary educational role models, explored educational challenges, reviewed key topics, and released the 2012 China Education Annual Survey Report.
Categorization corresponded to the subdivision of China's education industry, with awards for "study overseas" institutions, foreign language training, and so on. New Oriental Academy was named "Top ten International Education Brand."